JACK • 1700-1917
NAVAL FORTRESS FLAG • 1700-1913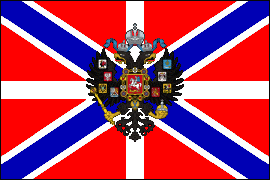 NAVAL FORTRESS FLAG • 1913-17

In 1732 a decree of the Empress Anna abolished the squadron ensigns, specifying that all warships of the Russian Navy should fly the Andrew Flag, the jack and the white masthead pennant. In 1743, however, a decree of the Empress Elizabeth reinstated the squadron ensigns and pennants. Then, in 1764, the squadron ensigns were once more abolished, this time by a decree of the Empress Catherine II, leaving the Andrew Flag, the jack and the white pennant as Russia's sole naval flags. Squadron ensigns were reintroduced in the reign of the Emperor Paul I and in 1797, he ordered that the blue and red ensigns be altered to display the jack rather than the Andrew Flag as a canton. (The jack was also the rank flag of the General Admiral of the Navy—at that time the Emperor himself.) The Baltic Fleet was now organized in three divisions, each of three squadrons. To indicate squadron identity within each division, ships flew either the white, the blue or the red masthead pennant. Thus ships of the First Division flew the Andrew Flag, the jack and either the white (1st Squadron), blue (2nd Squadron) or red (3rd Squadron) pennant. During his reign, Russian warships also sometimes flew the flag of the Knights of Malta—a red flag with a white cross—as a jack. (The Emperor held the title of Grand Master of the Order of the Knights of Malta.) After Paul's death in 1801 his successor, Alexander I, reinstated the former blue and red ensigns with the Andrew Flag canton. With some variations, the squadron ensigns continued in use with both the Baltic and Black Sea fleets until they were officially abolished in 1865. Thereafter, the Andrew Flag was Russia's sole naval ensign.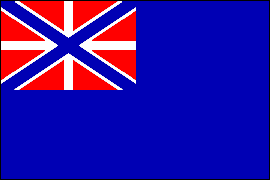 SECOND DIVISION OF THE FLEET • 1797-1801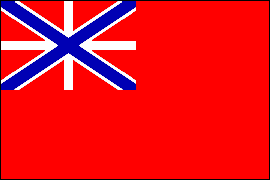 THIRD DIVISION OF THE FLEET • 1797-1801
In 1827, a decree of the Emperor Nicholas I created the St. George naval ensign and pennant to be flown by ships that had particularly distinguished themselves in action during the Russo-Turkish War (1827-29). (The Cross of St. George was tsarist Russia's highest military decoration for valor.) The first vessel to be so honored was the ship of the line Asov for the Battle of Navarino (1827). During World War II, the Soviet Union introduced a similar honorary flag, the Guards Ensign.