Semper Paratus ("Always Ready") is the proud motto of America's oldest military branch with an unbroken record of service, the United States Coast Guard. The ancestor of the Coast Guard, the United States Revenue Cutter Service, was established in 1790, three years after the adoption of the Constitution, by Secretary of the Treasury Alexander Hamilton. Until the re-establishment of the Navy in 1798, the Revenue Cutter Service was the sole naval force at the disposal of the nation. Its primary missions were to combat smuggling and piracy, though from the beginning it also undertook to assist mariners in distress. In addition to these duties the Revenue Cutter Service and Coast Guard have served in every American war, usually operating under Navy command.
In 1915, the Revenue Cutter Service was amalgamated with the United States Life-Saving Service and renamed the United States Coast Guard. Over the next thirty years the modern Coast Guard gradually took form as the service assumed additional missions. In 1939 it absorbed the U.S. Lighthouse Service and in 1942 it assumed the functions of the Bureau of Marine Inspection and Navigation. In 1967 the Coast Guard was transferred from the Department of the Treasury to the new Department of Transportation and in 2002 it was transferred to the new Department of Homeland Security. However, these changes in bureaucratic ownership have not affected the Coast Guard's core missions: maritime law enforcement; maritime safety, lifesaving and disaster response; and national defense.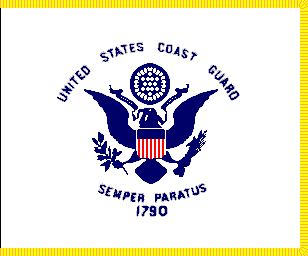 The United States Coast Guard Standard
The United States Coast Guard Standard is the service's parade flag. It dates in its present form from 1950 and follows the design of the Revenue Cutter Service jacks of the nineteenth century. The Coast Guard Standard is always carried or displayed with a full set of Coast Guard campaign streamers. Its dimensions are the same as the ceremonial colors of the other service branches: 4 feet 4 inches at the hoist by 5 feet 6 inches on the fly plus 2 1/2-in. fringe.