"Always Faithful"

UNITED STATES MARINE CORPS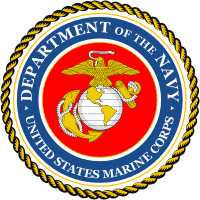 FLAGS, GUIDONS & BATTLE STREAMERS
These Pages Dedicated
To the UNITED STATES MARINE CORPS and TO THOSE WHO SERVED
The United States Marine Corps Battle Color

The United States Marine Corps Battle Color is the senior organizational flag of the Marine Corps. The flag is made of heavyweight rayon banner cloth; its dimensions are 4 feet 4 inches at the hoist by 5 feet 6 inches on the fly, with scarlet field and 2 1/2-inch yellow fringe. Scarlet and gold were made the official USMC colors in 1925, and the design of the Battle Color dates from 1939. The insignia is the famous globe, anchor and eagle badge of the Corps.

USMC colors are displayed with streamers denoting the decorations, battles, campaigns and service of the Marine Corps and its units. The Battle Color displays the full streamer set; colors of organizations display only those actually earned by the unit.
---