"Don't Give Up the Ship"

UNITED STATES NAVY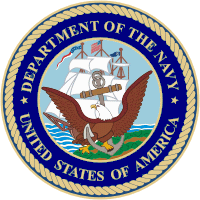 ENSIGNS, FLAGS, GUIDONS & STREAMERS
These Pages Dedicated
To the UNITED STATES NAVY and TO THOSE WHO SERVED
The United States Navy Flag

The US Navy Flag is used for ceremonial purposes ashore. The flag is made of heavyweight rayon banner cloth; its dimensions are 4 feet 4 inches at the hoist by 5 feet 6 inches on the fly, with 2 1/2-inch yellow fringe. Blue and gold are the official Navy colors, and the insignia is the central device from the seal of the Department of the Navy.

The Navy Flag is always displayed with a set of streamers commemorating the battles, campaigns and service of the Navy since 1775. Currently there are 28 authorized battles streamers, plus three to recognize awards of the Presidential Unit Citation, the Navy Unit Commendation and the Navy Meritorious Unit Commendation.

Credit: WAR FLAGS thanks FOTW Mailing List member Joseph McMillan, who provided much of the information presented in this section.

ARCHIVE PAGES
Active links display an icon

HISTORICAL


Revolutionary War
Civil War
Rank Flags • 1800-1940
Ensigns & Flags • World War I
---
The Navy Hymn
Eternal Father, strong to save,
Whose arm doth stay the restless wave,
Who bidst the mighty ocean deep,
Its own appointed limit keep,
O hear us when we cry to thee,
For those in peril on the sea!
---